29. 3. 2023
APRIL Newsletter 2023
OPTOKON April 2023 Newsletter Highlights:
Collaboration with Czech Technical University and Jihlava Polytechnical University on innovative projects funded by the Technology Agency of the Czech Republic (TA CR).
Recent recognition in "Practical Electronic - Amatérské Radio" magazine for our hard work and dedication to the industry.
Introduction of 25-year and lifetime warranties for our cables and patchcords.
New products released in the last quarter with details of recent and forthcoming exhibitions where OPTOKON products will be on display and available for demonstration.
Patented Easy Link system, an innovative optical outlet that provides a universal solution for FTTH installations, is now available in the market.
OPTOKON DOS cable system, revolutionize data center cabling.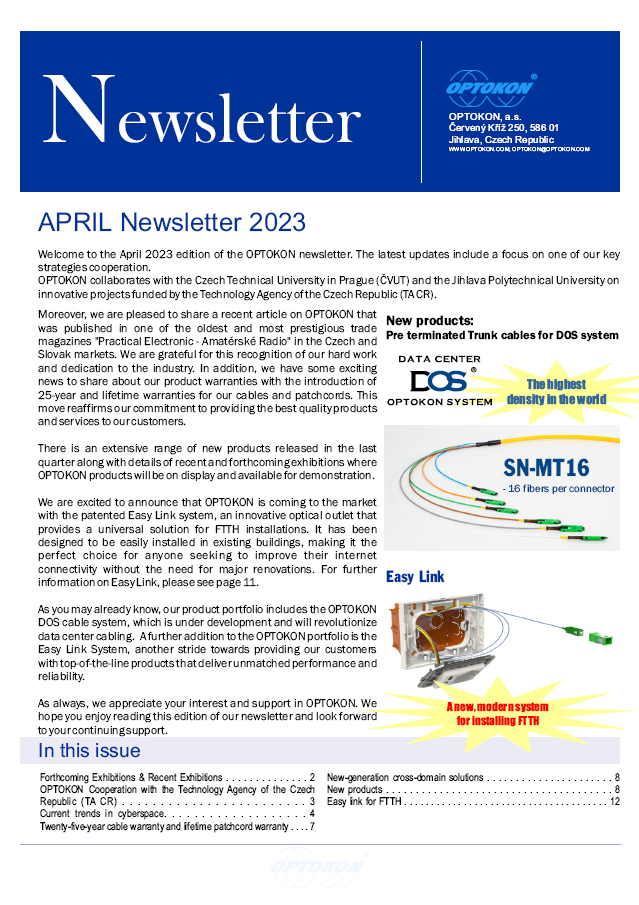 View OPTOKON April 2023 Newsletter
Thank you for your interest and support in OPTOKON. We hope you enjoy reading this edition of our newsletter.