MOT-940 Mini OTDR series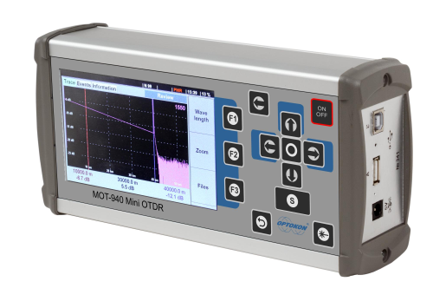 The MOT-940 Mini optical reflectometer series comes in a compact metal housing with all functions as a full OTDR.
The reflectometer determines the distance to reflecting and non-reflecting events and measures insertion loss of optical line and attenuation loss.

In addition, the MOT-940 is fitted with an optical power meter and a visible light source.

The internal memory allows the storage more than 1000 traces, USB interface is designed for saving of data onto USB flash memory.

Power supplying is ensured with inbuilt rechargeable Li-Ion battery, which provides long term working time.

The MOT-940 is designed for testing single mode and multimode optical fiber parameters in the process of installation, operation and maintenance, respectively the fault location in field conditions.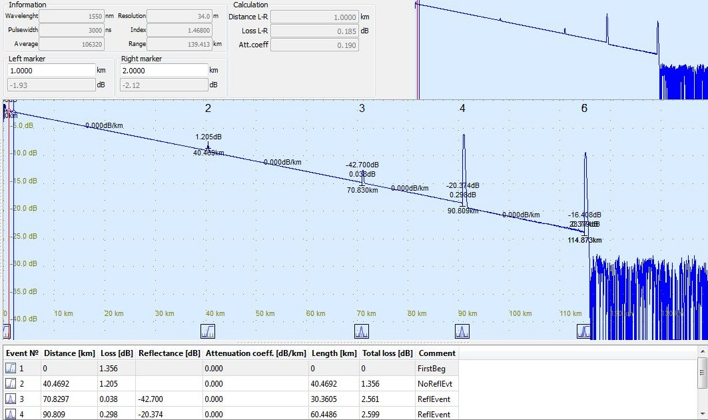 Portable, MM + SM measurement, light weight reflectometer
Large LCD color screen
Optical trace analysis
High dynamic range
PMH module – measures optical power
VFL module – visible light source 650 nm
TopOTDRViewer evaluation SW – reporting solution
Internal memory for 1000 traces
File in Bellcore format
PC control option, upgrading of internal software via USB
Power Meter
| | |
| --- | --- |
| Power range (dBm) | PM: -85 to +6 PMH: -60 to +20 |
| Accuracy (dB) | 0.3 |
| Resolution (dB) | 0.01 |
| Working wavelength (nm) | 850, 1310, 1490, 1550, 1625 |
| Units | dBm, dB, mW |
Light Source
| | |
| --- | --- |
| Spectral width (nm) | < 5 |
| Output power (dBm) | > -3 |
| Stability @ 1310/1550 nm (dB) | ±0.25 |
Visual fault locator
| | |
| --- | --- |
| Light source | Laser |
| Wavelength (nm) | 650 |
| Output power4 (mW) | 0.8 |
General specifications
| | |
| --- | --- |
| Size (mm) | 225 x 110 x 55 |
| Weight (kg) | 0.8 kg |
| Power source | Li-Ion battery |
| Display | LCD 800 x 480, 5 inch color display |
OTDR module
OTDR module1
PN:

940-01
940-A-85-30/31-55

940-02
940-A-31-55

940-03
940-A-31-49-55

940-04
940-A-31-55/62

940-05
940-A-31-49-55/62

940-24
940-A-31-55-62

Fiber Type

MM

SM

SM

SM

SM

SM

SM

Wavelength (nm)

850/1300

1310/1550

1310/1550

1310/1490/1550

1310/1550

1625

1310/1490/1550

1625

1310/1550/1625

Dynamic range2 (dB)

28/30

39/38

41/40

41/39/40

41/40

39

41/38/39

39

41/40/39

Pulse width (ns)

MM

5, 10, 20, 50, 100, 300, 1 000, 3 000, 10 000

SM

5, 10, 20, 50, 100, 300, 1 000, 3 000, 10 000

Distance range (km)

0.25 - 250

Event dead zone3 (m)

0.8 m

Attn. dead zone3 (m)

4.5 m

Sampling points

Up to 128 000

Data point spacing

0.2 – 20 m

Distance uncertainty

±(1+0.005%*distance+data point spacing) m

Linearity

0.04 dB/dB

Trace file format

Telcordia Tech. SR-4731

Trace file storage

1000 traces internal memory, next 1000 traces on external memory

Internal memory

2 GB

Data transfer to PC

USB 2.0 (type B); USB-flash memory > 8 GB

OTDR modes

Auto / Expert / Real Time
Note: 1) For complete details of all available configuration refer to Ordering code
port module: 940-02, 940-03, 940-24
ports module: 940-01, 940-04, 940-05
2) Typical dynamic range with three minutes averaging at SNR=1
3) Typical dead zone for single mode fiber for Return loss > 45 dB, 5 ns pulse
4) Typical into 9 µm SM fiber
FC adapters
Battery charger
Soft carrying case
USB Cable
Protective dust cap
OF-16255 – external filter 1625 n

Options:
Master Patchcord
Launch cable
Set of optical adapters
OF-16256 – external filter 1625 nm
Note: 5) Filter 1625 is delivered with MOT-940-A-31-55-62-PMH-VFL as standard
6) Filter 1625 is delivered with MOT-940-A-31-55/62-PMH-VFL as option
(the separate port 1625 nm is equipped with internal 1625 nm filter)
MOT-940 - A

-

wavelength

-

PMH7

-

VFL8

-

YYY

Light source:

as below

YYY - connector type

UPC

FC/UPC

USC

SC/USC

NPC

FC/APC

NSC

SC/APC
Note – standard equipped modules:
7) PMH High power meter
8) VFL Visual Fault Locator
| | |
| --- | --- |
| Light source code | Description |
| 31-55 | One port: 1310 and 1550 nm |
| 31-49-55 | One port: 1310, 1490 and 1550 nm |
| 31-55-62 | One port: 1310, 1550 and 1625 nm |
| 31-55/62 | One port: 1310, 1550 nm, Second port: 1625 nm |
| 85-30/31-55 | One port: 850 and 1300 nm Second port: 1310 and 1550 nm |
| 31-49-55/62 | One port: 1310, 1490 and 1550 nm, Second port: 1625 nm |