ACS Automatic Configuration Server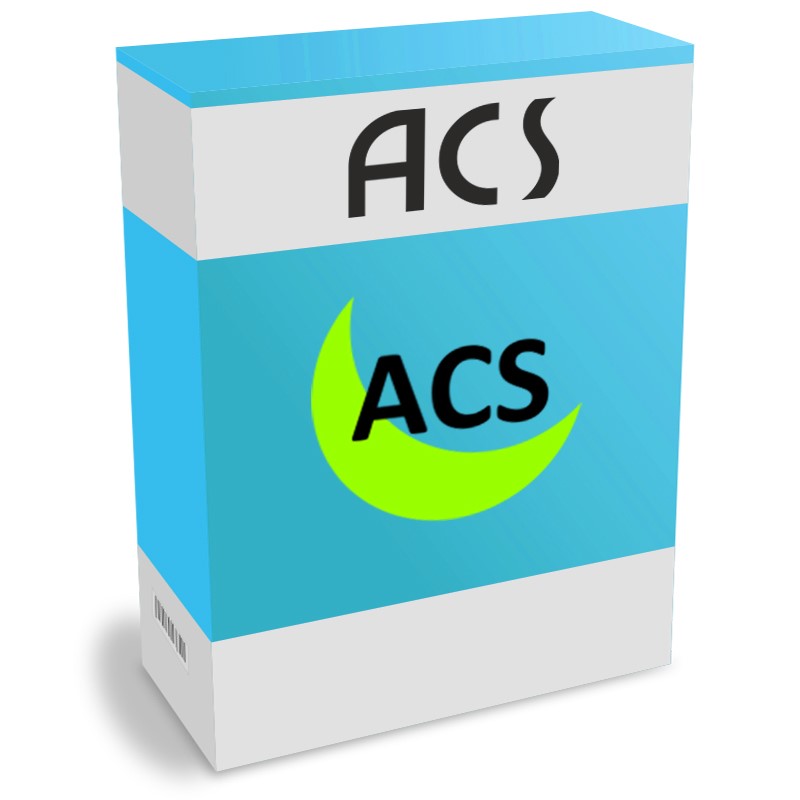 Automatic Configuration Server (ACS) is intended to simplify and automatise configuration of subscriber devices (CPE) by using the protocol described in TR-069 standard and allows operators to use global network for centralised control over customer equipment. The standard defines a mechanism of safe CPE automatic configuration and combines CPE control functions in a single system.
Increasing of customers loyalty
Displaying device failures in real time as text and graphics
Grouping network terminals to control and update several devices simultaneously
Devices automatic registration
Single Approach to Device Control
TR-069 protocol allows using a single approach to control all subscriber devices installed in the operator's network. The ACS server supports connection of various OPTOKON subscriber devices.
It also allows connection of third-party devices, which fully support TR-069 specification and have been tested for compatibility.
Configuration models
The ACS system supports 2 configuration models for subscriber devices:
ACS is used only to configure public parameters of subscriber devices, while subscriber's private data, such as PPP and SIP passwords, etc. will be configured by users on their devices via WEB interface.

ACS is used to configure all parameters of subscriber devices, including all service parameters.
OSS Integration
The ACS server can be controlled via NorthBound allowing complete OSS integration. This provides a capability to adjust all network nodes in order to connect a new subscriber as soon as possible and with minimum resources.
Supported devices
PON equipment

- GPON

OLT Subscriber terminal ONT NTU
OLT Subscriber terminal ONT NTP

– EPON/TurboGEPON

Subscriber terminal ONT NTE

VoIP equipment

- Subscriber gateway IP-telephony

TAU-1E.IP
TAU-1M.IP/2M.IP
TAU-8.IP

- Subscriber gateway with VoIP support

RG-14 series
RG-24 series
RG-44 series
RG-54 series

IPTV-mediacenters

Linux-mediacentres NV-102, NV-300 series
Android-mediacentres NV-310, NV-501 series

Thin clients

Wi-Fi access points

Subscriber Wi-Fi router
ACS

– Autoconfiguration and dynamic services preparing for work
– Software versions management
– Performance monitoring
– Diagnostics

Interfaces of GUI and CLI management

Graphic and console management interfaces

Interface of mid-program interaction Nortbound Interface (NBI)

Is designed for stack between different systems automatization. NBI realization allows to request CPE lists, to add and delete devices, to assign device parameters, to handle services. Also it allows to restart devices, to update firmware and to execute reset devices to initial settings.

Database

Consists of:
– CPE lists
– CPE parameters
– users and roles
– passwords
– profiles
– CPE-firmware
– processes journals
– journals of exchange with devices

OSS/BSS

Running of customers devices and services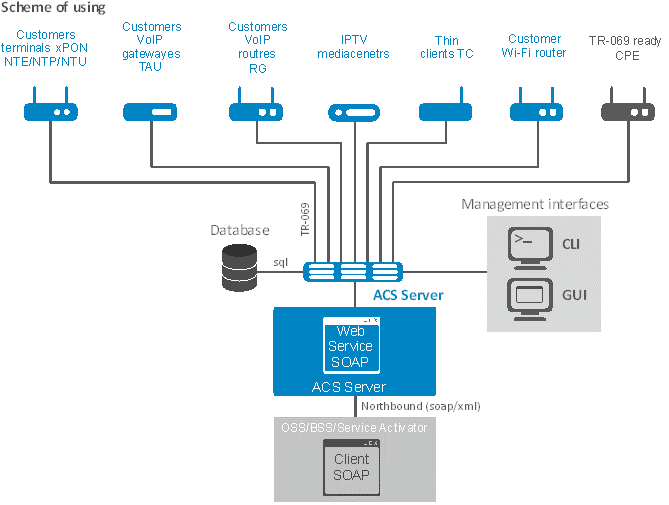 Advantages of ACS
Failures diagnostics acceleration

Quick messages precessing

Decrease of clients application due to:

network monitoring automatization

statistic gathering

software updation

Quality of service increasing

Expenses decreasing when connecting new customers

Automatic detection of new devices (zero-touch configuration)

Decreasing of expenses for preparing employees

Displaying of failures in text and graph form

Flexible integration with any CPE that supports TR-069 protocol

Efficiency increasing of call-center

An additional logical level separates subscriber from his device to simplify configuration of individual parameters and allows changes in subscriber devices (replacement by similar devices) without services re-configuration

Using scheme with securing a device for customer, securing due to application

Flexible hierarchy of profiles and services allows fully functioning configurations to be created for different criteria of CPE grouping

Integration with the EMS enterprise management system within a common graphical interface

Support of software modules management
Easy-to-use
Well-known interface

More independence from "installators", activation and reconfiguration services for any network devices which support TR-069 from unified ACS server - non-standard RPC support

When devices are connected to network they automatically appear in server configuration

Profiles of services and subscriber private parameters are configured on operator's PC either when they become available on server or beforehand, based on the device serial number

The server can operate with any devices supporting TR-069.

Different types of devices can be controlled and monitored by switching classes in a single GUI window

VoIP-gateways management that are hidden behind router

A possibility to connect more than 200,000 devices to one server.

HTTPS protocol.

Support of scripts (operator can create any script for ACS serveroperation with CPE).
The "leakage" Issue is Solved for SIP Passwords and Other Private Data
– All subscriber's private data is configured by the operator on the ACS server and is not sent to the subscriber that eliminates the leakage issue.
Diagnostics of Failures
– A connection can be remotely checked by a ping command from a subscriber device to any specified WAN or LAN host.
Statistics Collection for Analysis
– Monitoring of current status of services, interfaces, port counters, etc.
Customer Configuration Backup
– Centralised backup of current settings of network devices on the ACS server (or any other server in the network). Recovery of the settings, for example after reset to factory settings.
Centralised firmware update
– For groups and configured filters
– By schedule
– In the safe mode (at device startup only)
Integration of the system to the existing network infrastructure
- To make ACS fully integrated to the existing network infrastructure, responses of the EMS DHCP-server should be supplemented with option 43 specifying the ACS address for device connection to the server.
Easy-to-use and intuitive graphical interface

| | |
| --- | --- |
| ACS-CPE-256 | ACS-CPE-256 option of ACS for CPE autoconfiguration: 256 CPE devices |
| ACS-CPE-512 | ACS-CPE-512 option of ACS for CPE autoconfiguration: 512 CPE devices |
| ACS-CPE-1024 | ACS-CPE-1024 option of ACS for CPE autoconfiguration: 1024 CPE devices |