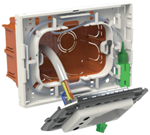 Optical outlet with universal wall box mounting. Easy Link is the ideal solution for FTTH installation in existing buildings. Thanks to the special cover with a breakable slot, Easy Link can be either wall mounted or installed onto an existing socket, even fully occupied by other services. The fiber cable on the system side can enter, even pre-connected, both flush with the wall and from the inside of the wall box. Easy Link is universal and compatible with any type of electrical building infrastructure system (power, TV, RJ45, etc.).


What is OPTOKONcept?
OPTOKONcept is the complete FTTH turnkey solution for broadband connectivity providing users with high-speed unlimited bandwidth and services directly in their own homes and premises. This technology requires the installation of new transmission, wiring, and receiving infrastructure networks to provide users with voice, video and telephony services.