24. 4. 2023
OPTOKON Group and ARCON enter into partnership to provide advanced cybersecurity products and services.
Czech Republic & India – April 18, 2023
Info on CZECHSPACE PORTAL Successful conclusion of the first Czech-Indian Space Industry Day
The OPTOKON Group and OptoNet Communication are proud to announce a new partnership with ARCON, India, aimed at advancing the development, production, and sale of cutting-edge telecommunications and cybersecurity products. The partnership will serve the military and space industries and will include a focus on privilege access management, identity threat detection and response as well as security operations centers.
As part of this partnership, ARCON and OptoNet will work together to develop a go-to-market strategy for their cybersecurity products and services in the region. This collaboration will enable OptoNet especially with its new datacenter and a well established fiberoptic backbone to offer highly specialized Cybersecurity Services such as Security Operations Centre and Identity Access Management Services as a SaaS offering to a large number of clientle in the region.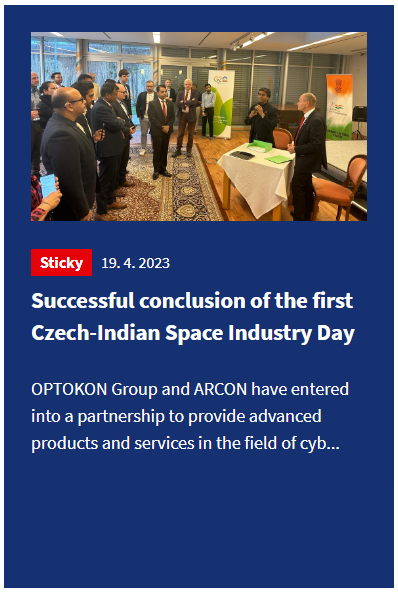 The Memorandum of Understanding was signed at the Embassy of India in Prague, Czech Republic on Tuesday, April 17, 2023, under the patronage of the Ministry of transport. This marks an exciting milestone in the growth of both companies, as they join forces to tackle some of the most pressing challenges around cybersecurity especially for critical national assets. This also marks a unique milestone in the various initiative jointly undertaken by Indian and Czech Governments.
Více