PUDOS 19" Rack mount Optical Distribution Frame for Data Centers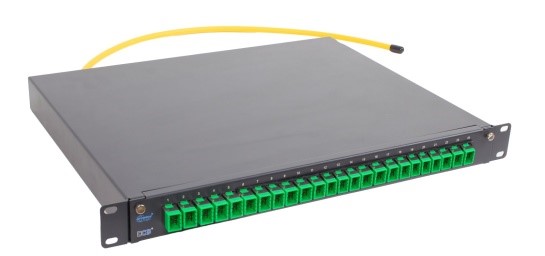 The PUDOS is an economical rack mountable patch panel for use with manufactured pigtails, pre terminated cables. The cables are strain-relieved at the rear of the unit. This prevents damage to fibers prior to routing into couplings. In addition the sligh-out shelf allows full access to the internal fiber connection, easy cleaning and connection management. The modular system allows splicing and termination up to 1536 fibers (with SN-MT connectors) in rack height 1U.
Designed for cable or microtubes termination
Compact robust design
Slide-out shelf provides unrestricted access
Changeable front panel, various adapters
Coupling adapters mounted on the front panel or in CNPM panels
Accommodates up to 1536 fibers in 1 rack unit
Durable powder coat finish
Cable strain-relief and grounding provisions
Accepts the industry's most common connector types and SN-MT connectors
Durable powder coat finish colour RAL 7021 Material-Aluminium-magnesium alloy - low weight and shipment costs
PART NUMBER

MAX FIBER CAPACITY

RACK UNITS

DIMENSIONS (HxWxD) mm

SHIP WGT (kg)

FT-1E-CNPM

FT-24-XX

PUDOS

11521

15361

1

44 x 432 x 350

1.8
Note: 1) Fiber capacity depends on the type of connectors used
Maximum connected fibers is possible with SN-MT 4CH (16F) adapters
Coupling panels FT series available for the common used connector adapter types in following configuration:
FT-1E-CNPM - 3 holes for CNPM panels with SN-MT, MTP/MPO, SC, DSC, DLC, QLC, ... adapters
FT-24-XX- 24 holes for SN-MT, MTP/MPO, SC, ... adapters
PUDOS-1E-1152-SNMT4

CNPM panel with 6x SNMT4 adapters

Front panels:

FT-1E-CNPM

3 holes for CNPM panels

FT-24-MTP

24 holes for MTP adaptors

FT-24-SNMT4

24 holes for SN-MT 4 channels
19" 1U Rack-mount
Data Centers
FTTH networks
PUDOS-1E1

-

XX

-

XX(F)2 (X)

Version

Fiber capacity

Adapter type

1

Front panel-adapters holes

1 ÷ 1536 fibers

SNMT43

SN-MT 4channel (4connectors)

1E

Front panel-3x CNPM holes

MTP/x-y4

MPO/MTP (12F)

SC(F)

SC

DSC(F)

Duplex SC

DLC(F)

Duplex LC

QLC(F)

Quadruplex LC

1) Types of CNPM panels are described in
CMS_24-01_EN-CNPM datasheet

(Application)

2) F - Fixed adaptors by screw

M

Multimode

3) Each SN-MT connector has 8 or 16 fibers

S

Singlemode

A

APC
4) Variants of MPO adapter
(details see in ADP_01-15_EN-MTP_adapter datasheet):
| | | | | |
| --- | --- | --- | --- | --- |
| x | Type MTP adapter | | y - Key orientation | Description |
| MTP/01 | SC footprint, flange | | A | Aligned (key up to key up) |
| MTP/S0 | Standard footprint, flange | | O | Opposed (key up to key down) |
Note: Recommendation for termination of MPO/MTP cable in ODF:
Male (pins) are always in back of panel, front side should be female.
PUDOS-1 previews:
PUDOS-1E front view
Sliding shelf with holes for remove able CNPM coupling panels

PUDOS-1 rear view
Entry and fixation for up to 24 cables onto sliding shelf