SFT-A In-Line attenuator Wavelength Independent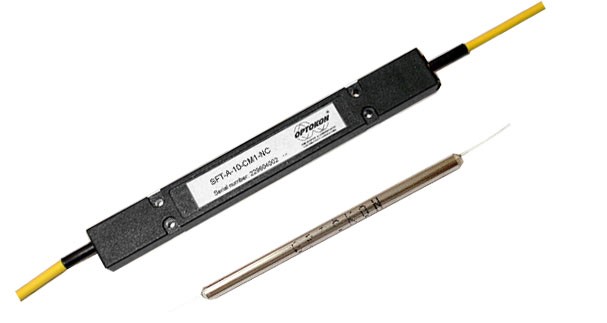 The SFT-A In-Line attenuators provide a fixed level of attenuation and feature excellent return loss in wide range of working wavelengths. Low cost and performance determine them for universal using in optical networks.
The SFT-A attenuator can be used as attenuation patchcord – cable 2.8 mm or secondary coated fiber 0.9 mm and primary coated fiber installed inside the splice cassette.
Return loss: UPC > 50 dB, APC > 60 dB
Attenuation according to definition
Low ripple broadband design for operation at wavelength range 1250 to 1650 nm
Fiber (primary coated) or cable version
Patchcord with connector according to specification
| | |
| --- | --- |
| Operating Wavelength, nm | 1250 – 1650 |
| Attenuation range*, dB | 1, 2, 3, 5, 10, 15, 20 |
| Return Loss, dB | UPC > 50, APC > 60 |
| Operating Temperature, °C | -40 to +85** |
| Storage Temperature, °C | -50 to +85** |
Note: *) Other attenuation on request
**) Depends on the cable type
| | |
| --- | --- |
| | |
| BFS, LTS | CM1 |
Wavelength characteristic of 20 dB Attenuator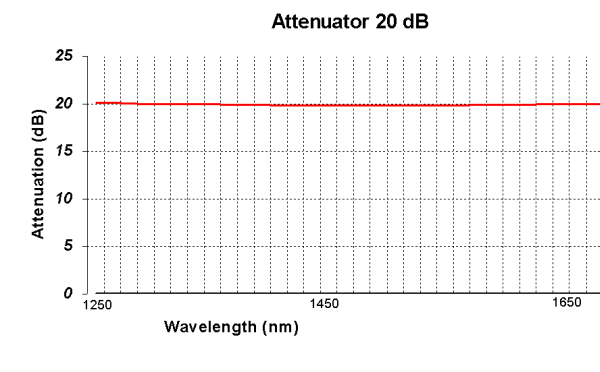 Packaging variants:
| | |
| --- | --- |
| | |
| SFT-A-05-BFS-NC | SFT-A-10-CM1-NC |
Fiberoptic systems
Receiver padding for optical receiver protection
Optical power equalization
Linearity and dynamic range testing in laboratory equipment
SFT-A

-

XX

-

XXX

-

NC-NC

attenuation

packaging

no input and output connectors

connector type:

01

1 dB

BFS

Bare fiber 250 µm

-can be defined according to CON_14-01

03

3 dB

standard tube L=54, Ø 3 mm

(Jumper Ordering Code)

05

5 dB

LTS

Fiber 0.9 mm

Note: standard fiber/cable length = 1 m

10

10 dB

standard tube L=54, Ø 3 mm

15

15 dB

CM1

Cable 2.8 mm

20

20 dB

metal box 100x15x9 mm