OFT-4212 Fiber optic 4-channels optical testing system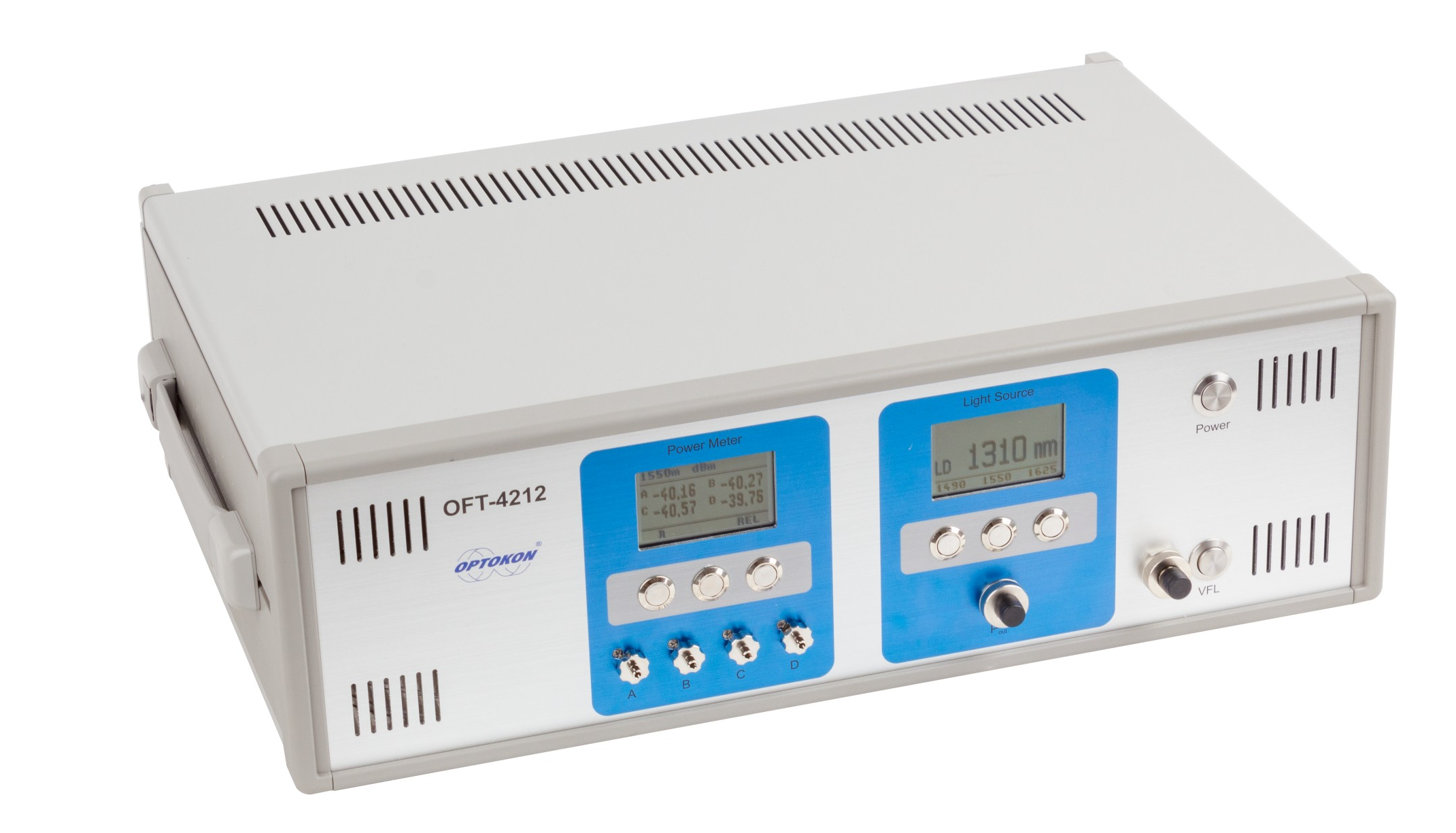 The OFT-4212 introduces monitoring and testing system designed for long term measurement of time depending changes of optical power level. The system includes four input channels Power meter, Light source and reporting software – Optical Power Monitor. The system is available with 2 multimode 850/1300 nm or 4 single mode 1310/1490/1550/1625 nm working wavelengths.
The optical Power Meter is designed to measure absolute or relative optical power in four optical fibers at the same time. The OPM – Optical Power Monitor software allows monitoring of all four fibers at multiple wavelengths simultaneously. The measured data are recorded with TimeStamp which includes date and time of measurement. The results can be stored and easily exported into spreadsheets for Reports elaboration.
In addition the OFT-4212 is equipped with 650 nm visible light source for fiber visual check.

Testing system with data recording SW – time dependency optical power measurement
4-fibers simultaneous measurements
Multimode and Single mode application
650 nm – Visual Fiber Locator (VFL)
Absolute and Relative optical power measurement
Displayed units: dBm, dB, W
Six working wavelengths measurement:
850, 1300, 1310, 1490, 1550, 1625 nm
Data processing or downloading
USB probe mode - full control via simple commands
Light Source
Output power

Note:

650 nm

0 dBm

typ. value

850, 1300 nm

-5 dBm

typ. value

1310, 1490, 1550, 1625 nm

-5 dBm

typ. value

Stability (1 hour, delta/2):

tested after 20 min warm up temperature 23 ± 1°

850 nm, 1300 nm

± 0.03 dB

1310, 1490, 1550, 1625 nm

± 0.05 dB

Output port:

FC/PC

Other on demand

Power meter
Photodetector

4x 1 mm InGaAs
4x 3.6 mm Si (13 mm2)

Single mode
Multimode

Working wavelengths

850, 1300, 1310, 1490, 1550, 1625 nm

can be customized

Dynamic range:

-65 dBm to +10 dBm
-57 dBm to +10 dBm

1300, 1310, 1490, 1550, 1625 nm
850 nm

Uncertainty

± 5%

1310, 1550 nm @ -20 dBm

Resolution

0.01

Input ports:

Universal 2.5 mm

Other on demand

General specification
| | |
| --- | --- |
| Dimensions | 450 x 280 x 138 mm |
| Weight | 4.8 kg |
| Power supply | 5 V DC |
| Operation temperature | -10 to + 50 °C |
| Storage temperature | -40 to + 70 °C |
OFT-4212-FC-31-49-55-62
Front panel view

TE-ADP-250
2.5 mm
TE-ADP-125
1.25 mm
Monitoring SW:
OPM – Optical Power Monitor


OPM – connection setup, parameter setting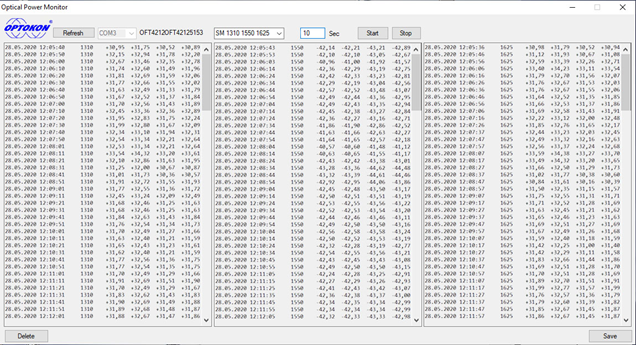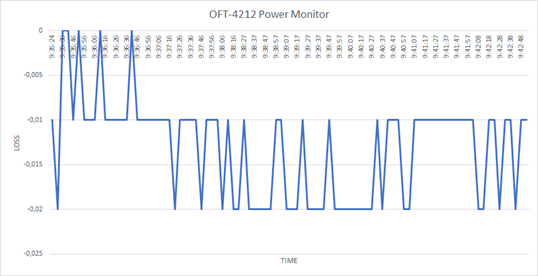 OPM –data saving, Report elaboration

| | |
| --- | --- |
| OFT-4212-FC-850-30 | MM Loss test set, 850/1300 nm FC/PC adapter output port |
| OFT-4212-FC-31-49-55-62 | SM Loss test set, 1310/1490/1550/1625 nm, FC/PC adapter output |