PM-212-SI3 Pocket optical power meter USB probe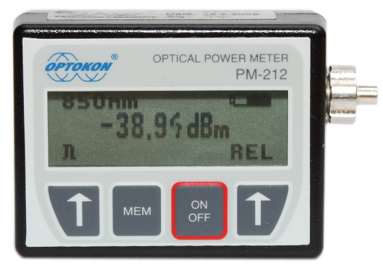 The PM-212-SI3 optical power meter is a small, pocket size low cost tester. The small size does not prevent the optical meter fulfilling all technical requirements for field equipment. The tester can be used as pocket power meter or as USB probe, part of testing workstation. The tester is equipped with 3.6 mm Si photodetector, working area 13 mm2 designed for measurement of multimode fibers. The input interface is equipped with changeable ASP adapters, which allow connection of wide range multimode connectors. The standard tester is designed for measurement at 850/980 nm, extended wavelength range 850/880/910/940 nm is available.
The Li-Pol rechargeable battery ensures long term working time with a minimum life time of 2 years. The unit is able to store 100 measurements which can be uploaded to PC and evaluated with SmartProtocol software or Data Exporter.
Two functions:
- Portable power meter
- USB probe – accesssory of Testing Workplace
Small size, light weight
MM fibers testing, 850/980 or 850/880/910/940 nm
Easy changeable connectors for wide applications
Absolute and Relative optical power measurement
Internal two level memory structure
Capacity up to 100 measurements
SmartProtocol SW – Test reports creating
Data Exporter – data download to Excel sheet
USB port for:
- USB probe - full control via simple commands
- charging the battery
- data upload to PC
- firmware upgrade
Build-in Li-Pol rechargeable battery pack
Battery status indicator, Auto Off
| | | |
| --- | --- | --- |
| Photodetector | 3.6 mm Si (13 mm2) | |
| Working wavelengths | 850, 980 nm 850, 880, 910, 940 nm | Standard Extended ʎ range |
| Uncertainty | ± 5% | |
| Resolution | 0.01 | |
| Dynamic range | -65 dBm to +10 dBm | |
| Dimensions | 24 x 47 x 71 mm | including 2.5 mm universal adaptor |
| Weight | less than 90 g | battery loaded |
| Temperature operating | -10 to +50 °C | |
| Temperature storage | -40 to +70 °C | |
| Humidity (non cond.) | 0 – 95% | |
| Operating temperature | -10 to +50 °C | |
| Battery working time | > 35 hrs | between battery charging |
| Battery life time | > 2 years | |
Standard accessories:
Power meter
Universal 2.5 mm input adapter (TE-ASP-250)
Power charging adapter
Traceable calibration certificate
USB cable
SmartProtocol SW
Soft case
Hard plastic case TE-HC-01

TE-HC-01 Hard carry case
(265 x 270 x 90 mm)
Options - changeable input adapters:
Other types available on request:
TE-ADP-SC SC adaptor
TE-ADP-FC FC adaptor
TE-ADP-ST ST adaptor
TE-ADP-DIN DIN adaptor
TE-ADP-SMA SMA adaptor
TE-ADP-LC LC adaptor
TE-ADP-MU MU adaptor

TE-ADP-FC

TE-ADP-LC

TE-ADP-SC

TE-ADP-250

TE-ADP-125
SmartProtocol compatible (refer to TEQ_02-07_EN-SmartProtocol)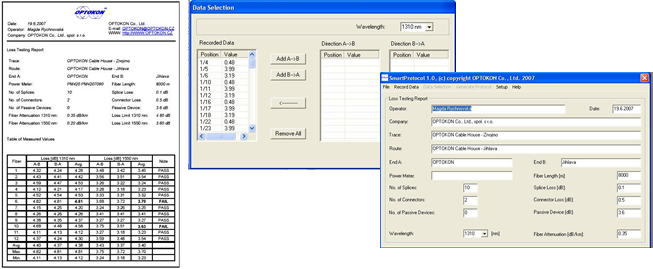 DataExporter compatible (refer to TEQ_08-13_EN-DataExporter)

Optical networks testing
Test reports creating
PM-212-SI3 standard MM tester
PM-212-SI3-(85/88/91/94) 850,880,910,940 working ʎ