PM-830-FTTX Optical power meter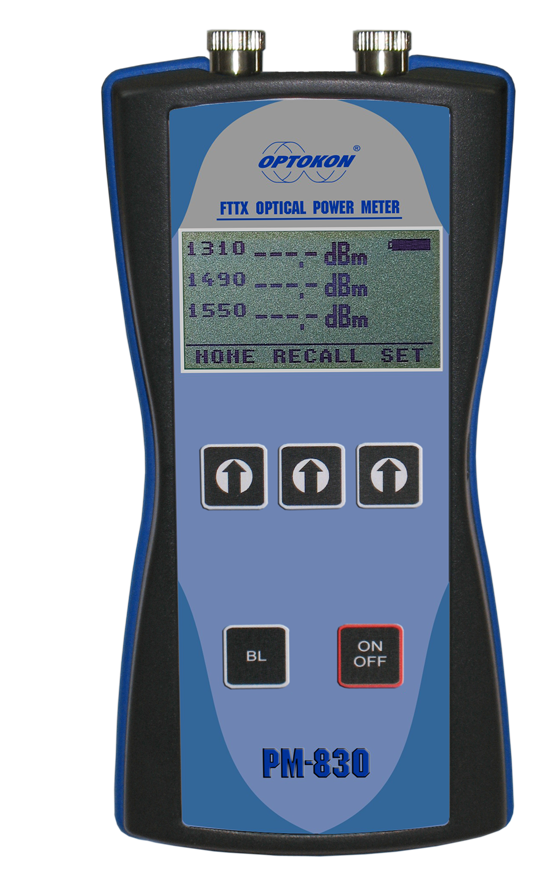 The PM-830-FTTX optical power meter is designed for simultaneous measurement and display of all signals – voice, data and video. The tester can be used as portable power meter or as USB probe, part of testing workstation. The FTTX tester is also perfect for testing PON services during activation and maintenance. The memory capacity allows storage and uploading of up to 2000 measurements. The stored data can be easily exported to Excel, Word or any other application.
Two versions of PM-830-FTTX meter available:
Single port:
The version with one input port - designed for measurement at end sides of optical lines, it requires disconnection the active device from the optical lines for measurements.
Dual port:
The version with two optical ports - the dual port tester with IN/OUT optical ports allows measurements of uninterrupted optical lines with the connected active device, pass-through testing mode. The PM-830-G1 tester is optimized for testing of standards GEPON (Gigabit EPON) and GPON, transmission speed upstream up to 1.25 Gbps. The 1310 nm channel provides correct power measurements of burst type upstream PON signals The changeable connector/adaptor design allows the simple exchange of optical PC or APC connectors (FC, SC) and easy cleaning of the output connector ferrule after removing the connector adaptor. LC/PC and LC/APC are also available.
Power meter
Traceable calibration certificate
FC or SC adapter (can be customized)
USB connection cable
Power charging adaptor
Hard carrying case TE-HC-03
FTTH-PON testing
Three simultaneously measured wavelengths
Pass-through testing
Absolute and Relative optical power measurement
Large memory capacity for storing measured data
USB probe mode - full control via simple commands
Rechargeable Li-Pol battery
Battery status indicator
Auto Off
Photodetector

3x InGaAs

Working wavelength

1310, 1490, 1550 nm

Spectral passband

1250-1360, 1430-1500, 1530-1650 nm

other passband width – on request

Isolation (dB)

1550->1490: 35 dB

1490->1310: 50 dB

1310->1490: 60 dB

1550->1310: 55 dB

1490->1550: 45 dB

1310->1550: 40 dB

Pass-through IL

1.5 dB typ., 2.0 max (1550 nm)

dual port

RL

≥ 50 dB

UPC polished connectors

Uncertainty

± 12 %

typ., @ -10 dBm

Resolution

0.1

Dynamic range: single port

-45 dBm to +10 dBm

CW: 1310,1490,1550 nm

dual port

-45/-20 dBm to +10 dBm

CW/burst: 1310, CW: 1490 nm

-35 dBm to +20 dBm

1550 nm

Dimensions

165 x 80 x 40 mm

Weight

250 g

with battery

Operating temperature

-10 to +50 °C

Battery working time

> 150 hrs

backlight off

Battery life time

> 2 years

3000 mAh Li-Pol
| | |
| --- | --- |
| Dual port | Typical application |
| PM-830D-P2-FC-G1 | |
Compliant with RoHS-requirements (2002/95/EG, 27.01.2003)
METHOD AND TECHNOLOGY PROTECTED BY US PATENT 7,187,861, RUSSIAN FEDERATION PATENT RU 2345490, AND PENDING APPLICATIONS IN OTHER COUNTRIES

FTTX optical networks measurements
PON optical networks measurements
PM-830(D)

-

XX

-

XX

-

G1

Ferrule style

1.25 Gbps upstream

P2

2.5/PC

Adaptor

Combined with

GEPON, GPON optimized

A2

2.5/APC

SC

P2,A2

FC

P2,A2

ST

P2

PM-830 Single port type

NC

P2,A2, no connectors

PM-830D Dual port type

LC1

Fixed Duplex Adaptor

NLC1

Fixed Duplex Adaptor
Typical configuration
Single port power meter:
PM-830-P2-FC FC/UPC optical interface
PM-830-P2-SC SC/UPC optical interface
Dual port power meter:
PM-830D-P2-FC-G1 Two FC/UPC optical ports
PM-830D-LC-G1 Duplex LC/UPC optical port

Standard accessories



TE-HC-03 hard case for one or two testers