OFT-820 Loss Test Set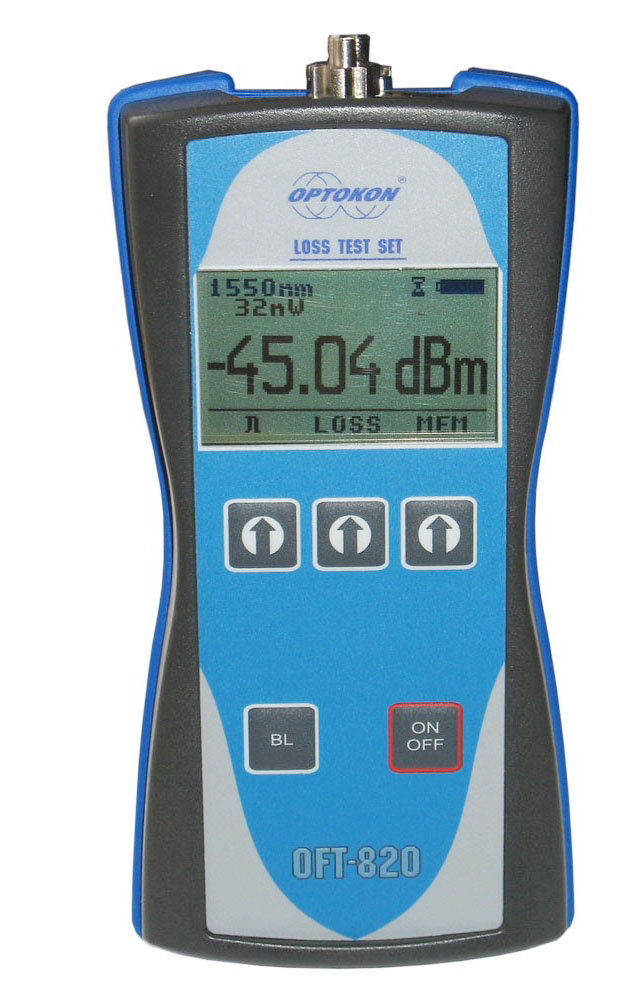 The OFT-820 series optical Loss Test Set combines two optical test equipments – Light Source and Power Meter in the same box. The optical Light Source fulfills all the necessary technical requirements for field equipment. Available in various working wavelengths combinations: 850, 1300, 1310, 1490, 1550 and 1625 nm. The optical Power Meter is designed to measure absolute or relative optical power in optical networks.
The memory capacity allows storage and uploading of up to 3000 measurements including memory position or fiber number, wavelength, absolute value or relative value and insertion loss. The SmartProtocol PC evaluation software supports memory download, test report generation and Data Exporter for data download to Excel sheet. The rechargeable battery ensures long term working with a minimum life time of 5 years.
Portable power meter
USB probe – accesssory of Testing Workplace
Small size, light weight
High capacity two level memory
SmartProtocol PC software: memory download, reporting solution
Data Exporter PC software – data download to Excel sheet
Detection of modulation 270 Hz, 1 kHz, 2 kHz
AWD (Auto Wavelength Detection) function
USB port - battery charging, data download, FW upgrade
USB probe mode - full control via simple commands
Absolute and Relative optical power measurement
Displayed units: dBm, dB, W
Powered by built-in rechargeable battery
Battery status indicator, Auto Off function
Light Source

Output power

Note:

LD 850 nm, LD 850 nm, 1300 nm

0 dBm

LD 1310, 1490, 1550, 1625 nm

0 dBm

typ. value

Stability (1 hour, delta/2):

tested after 20 min warm up temperature 23 ± 1°

LD 850, 1300 nm

± 0.03 dB

LD 1310, 1490, 1550, 1625 nm

± 0.05 dB

Power meter

Photodetector

1 mm InGaAs

Working wavelengths

850, 1300, 1310, 1490, 1550, 1625 nm

can be customized

Dynamic range: Standard

-65 dBm to +10 dBm
-57 dBm to +17 dBm

1300, 1310, 1490, 1550, 1625 nm
850 nm

Uncertainty

± 5%

1310, 1550 nm @ -20 dBm

Resolution

0.01

AWD/Modulation Detection

-50 dBm
-45 dBm

1300 – 1625 nm
850 nm

General

Dimensions

165 x 80 x 50 mm

with 2.5 mm universal adapter

Weight

400 g

with battery

Temperature operating

-10 to +50 °C

Temperature storage

-40 to +70 °C

Humidity (non condensing)

0 to 95%

Operating temperature

-10 to +50 °C

Battery working time

> 50 hrs

between battery charging

Battery life time

> 5 years

2700 mA/h NiMH
Power meter adaptors
Other types available on request:
TE-ADP-ST ST adaptor
TE-ADP-DIN DIN adaptor
TE-ADP-SMA SMA adaptor
TE-ADP-MU MU adaptor

TE-ADP-FC
FC adaptor

TE-ADP-LC
LC adaptor

TE-ADP-SC
SC adaptor

TE-ADP-250
2.5 mm

TE-ADP-125
1.25 mm
Light source adaptors
Standard configuration of IN/OUT ports:
LS TE-ALS-FC, FC adaptor
PM TE-ADP-250. universal 2.5 mm

TE-ALS-FC

TE-ALS-SC

TE-ALS-ST
SmartProtocol PC software

Universal 2.5 mm adaptor at power meter

FC/PC interface at light source

Power charging adaptor

Traceable calibration certificate

Hard carrying case

USB connection cable
Optional Accessories
Power meter: Universal SFF 1.25 mm adaptor SC FC, ST, ... adaptors

Light source: Changeable adaptors
OFT-820

-

XX

-

XX

-

Light source

Ferrule style

Adaptor

Light source

P2

2.5/PC

Combined with*

A2

2.5/APC

ST

P2

as below:

-

N/A

SC

P2,A2

FC

P2,A2

NC

P2, A2 no connectors

LC

Fixed adaptor LC/PC

NLC

Fixed adaptor LC/APC
*) LC type – fixed adaptor, not removable, Other interface on request
| | | | |
| --- | --- | --- | --- |
| light source code | description | ports* | application |
| 850 | 850 nm | 1 | |
| 30 | 1300 nm | 1 | MM fiber testing |
| 850-30 | 850/1300 nm | 1 | |
| 31 | 1310 nm | 1 | |
| 55 | 1550 nm | 1 | SM fiber testing |
| 31-55 | 1310/1550 nm | 1 | |
| | | | |
| 850-30/31-55 | 850 nm+1300 nm / 1310+1550 nm | 2 | MM+SM testing |
*) output power of dual wavelenghts port is 3 dB lower than specified other wavelengths and port combinations on demand
Ordering example:
| | |
| --- | --- |
| OFT-820-P2-FC-31-55 | light source SM 1310 and 1550 nm, 1 port, FC connector power meter universal adapter 2.5 mm |
| OFT-820-P2-FC-850-30/31-55 | light source MM 850 and 1300, SM 1310 and 1550 nm, 2 ports, FC connectors power meter universal adapter 2.5 mm |