FOI-400AG - AutoGet WiFi Microscope - Intelligent portable wireless fiber end face visual inspector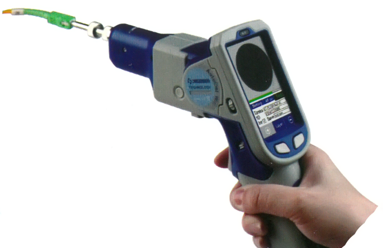 All-ln-One Design
Based on embedded Linux system, a 3.2 inch high density LCD is integrated into the AutoGet WiFi probe. AutoGet WiFi can inspect and analyze individually. No connections to other devices are required.
FOI-400AG AutoGet WiFi, 1pc
2.5 mm universal tip for male UPC, 1pc and 1.25 mm universal tip for male UPC, 1pc
Tip for female FC/UPC, LC/UPC, SC/UPC - each 1pc
AC battery charger, incl. USB 5 to mini-pin cable, 1pc; Micro SD card, 1pc; USB 2.0 WIFI module, 1pc; User manual, 1 copy
Over 5 hour duration time
Full series adapters
PASS/FAIL indicator
White LED for illumination
Fold-able & Flexible
With unique Rotational Axle Structure, AutoGet WiFi can be used in straight or be folded to measure devices in different heights or conditions.

Single Hand Operation
With integrated 3.2 inch LCD touch screen is the interaction easy and effective. One hand operation is easy with using two push buttons which cover most setting functions.

One Click Measurement
Just click the trigger button, AutoGet WiFi will complete the whole measurement automatically. Dimension software will identify the DUT, auto-center and auto focus. The fiber end face will be analyzed accurately following IEC or customized standard. The testing results will be saved for future reference


Wireless Data Transmit
Via wireless connection, AutoGet WiFi can transmit the real-time image, bulk data and single reports to intelligent terminal equipment on iOS, Android or Windows platforms. USB cable mode is also supported. The testing results can be also saved in embedded Micro SD card.


Item

Parameters

Size (H x W x D) mm

281 x 201 x 57 (Folded), 341 x 60 x 57 (Straight)

Weight

565 g

Resolution

0.52 µm

Image Sensor

1/1.8" CMOS

Optical Magnification

X 8.72

Display

480*800 3.2 " LCD Touch Screen

Live lmage

25 fps

Field of View

620 µm x 620 µm (Preview Mode)
250 µm x 250 µm (Measure Mode)
130 µm x 130 µm (Fiber Care Mode)

Digital ZOOM

3 levels

Measurement time

2 sec (exclude Auto Focus)

Light Source

Blue LED

Lighting

Coaxial

Communication Port

WiFi USB Type C

Power

Internal Li-ion, battery (rechargeable, replaceable)

Duration Time

More than 5 hours

Recharge Time

4 hours (Current: 2 A)

Power Supplier

USB AC adaptor 5 V/ 2 A include plugs for US, EU, UK, AU

Aux Functions

white LED for illumination, Pass/ Fail indicator, 60° fold-able body

Working Temperature

-10°C to 40°C

Storage Temperature

-20°C to 50°C

Humidity

90% non-condensing
FOI-400AG - AutoGet WiFi Microscope