Active Optical Cable – 40 Gbs QSFP+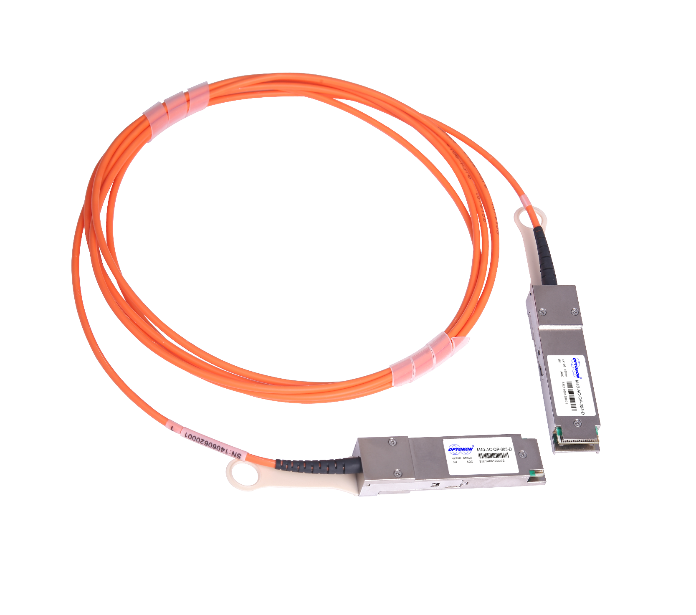 Products developed the QSFP+ Active Optical cable to provide an affordable, high-performance, low power approaches when connecting point-to-point or rack-to-rack. Parallel AOC are using full duplex 4 channel 850nm VCSEL technology. The QSFP+ to QSFP+ AOC provide data rates of up to 40 Gbps (Up to 11.1Gbps data rate per channel). Maximum link length is 300m links on OM3 multimode fiber.
AOC is electrically hot-pluggable compliant to SFF-8431, QSFP+ MSA and RoHS. Power dissipation < 1.5 W (per cable end).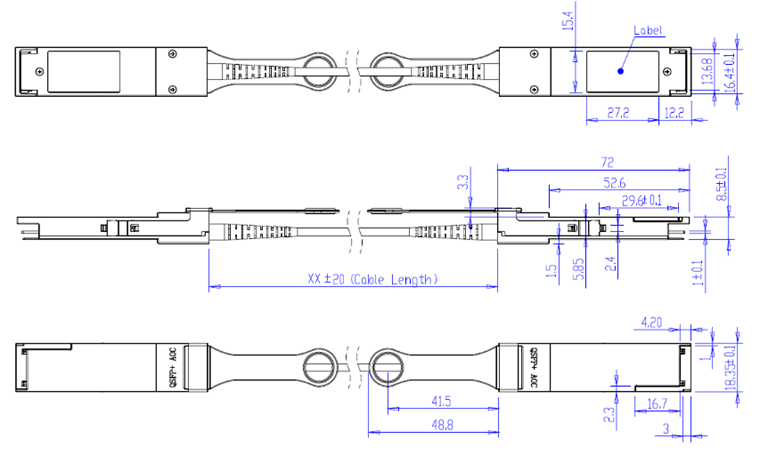 M40 – AC – QP – XXX-D XXX…………………… Cable lengths on OM3 Multimode Fiber (MMF)[i]
Standard Distance:
| | |
| --- | --- |
| dd code [-] | Distance [m] |
| 001 | 1 |
| 003 | 3 |
| 005 | 5 |
| 007 | 7 |
| 010 | 10 |
| 015 | 15 |
| 020 | 20 |
| 030 | 30 |
| 050 | 50 |
| 100 | 100 |
Examples code:
| | |
| --- | --- |
| Code | Description |
| M40-AC-QP-001-D-XX | QSFP Active cable, 1 m, temperature 0° C to 70° C |
| M40-AC-QP-003-D-XX | QSFP Active cable, 3 m, temperature 0° C to 70° C |
| M40-AC-QP-005-D-XX | QSFP Active cable, 5 m, temperature 0° C to 70° C |
| M40-AC-QP-007-D-XX | QSFP Active cable, 7 m, temperature 0° C to 70° C |
| M40-AC-QP-010-D-XX | QSFP Active cable, 10 m, temperature 0° C to 70° C |
| M40-AC-QP-015-D-XX | QSFP Active cable, 15 m, temperature 0° C to 70° C |
| M40-AC-QP-020-D-XX | QSFP Active cable, 20 m, temperature 0° C to 70° C |
| M40-AC-QP-030-D-XX | QSFP Active cable, 30 m, temperature 0° C to 70° C |
| M40-AC-QP-050-D-XX | QSFP Active cable, 50 m, temperature 0° C to 70° C |
| M40-AC-QP-100-D-XX | QSFP Active cable, 100 m, temperature 0° C to 70° C |
[i] Other lengths may be available upon request cable length =<150m