Active optical cable – 40 Gbps to 4x 10 Gbps application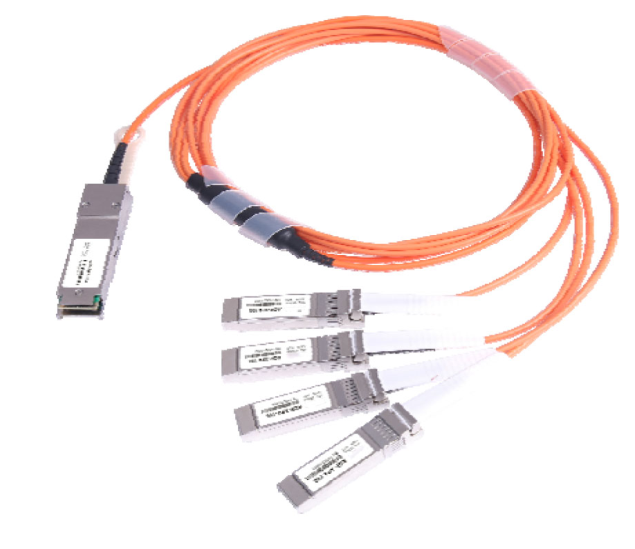 OPTOKON Active cable offers cost-effective solution for aggregate 4 discrete SFP+ channel into single parallel QSFP+ 40G interface. For typical applications, users can install this Active Optical cable between 40G QSFP port and four upstream 10Gbs SFP+ (Server Manufacturers supporting 40/10 Gbps or Data Center with 10 Gbps requirements with aggregation Architecture) and at distances of up to 150m.
QSFP+ module compliant to SFF 8436 MSA
SFP+ module compliant to SFF8431 MSA
RoHS Compliant.
Network Switch Manufacturers supporting 40/10 Gbps
Server Manufacturers supporting 40/10 Gbps
Data Centers with 10 Gbps requirements with Aggregation Architectures
M40-AC-QP-4xSP-XXX-D
XXX…Cable lengths on OM3 or OM4 Multimode Fiber [i] (Maximum 150 m[ii])
Standard distance:

XXX code

Distance

[-]

[m]

003

3

005

5

007

7

010

10

050

50

100

100
| | |
| --- | --- |
| Part number | Description |
| M40-AC-QP-4xSP-003-D | Active cable, 40 Gbps QSFP to 4 x SFP+, 3 m distance, temperature 0°C to 70°C |
| M40-AC-QP-4xSP-005-D | Active cable, 40 Gbps QSFP to 4 x SFP+, 5 m distance, temperature 0°C to 70°C |
| M40-AC-QP-4xSP-007-D | Active cable, 40 Gbps QSFP to 4 x SFP+, 7 m distance, temperature 0°C to 70°C |
| M40-AC-QP-4xSP-010-D | Active cable, 40 Gbps QSFP to 4 x SFP+, 10 m distance, temperature 0°C to 70°C |
| M40-AC-QP-4xSP-050-D | Active cable, 40 Gbps QSFP to 4 x SFP+, 50 m distance, temperature 0°C to 70°C |
| M40-AC-QP-4xSP-100-D | Active cable, 40 Gbps QSFP to 4 x SFP+, 100 m distance, temperature 0°C to 70°C |